When he was fourteen, he had an accident on snowboard that did hold him back from returning to football for five years. He trained in a horse stable in much worse conditions than his potential successors had. He was on the verge of dropping football after he had made a tragic mistake in the only game of the season, he had played – and it was the game for a promotion. He became full-time professional footballer when he was 29.
Today, you know Hannes Halldorsson as the goalkeeper who saved Messi's penalty in his World Cup debut. But not everyone knows how hard it was for him to get to the climax of his career. Qarabag goalkeeper speaks to Weszlo about his journey from third league reject to the man who stopped Cristiano Ronaldo at Euro 2016 and Leo Messi at 2018 World Cup.
If you had to record a 30-second trailer for a movie about your life, your career, what would it be like?
I think that if I had only 30 seconds, I would have to show a lot in short time and it probably would be a montage with music and all of different stuff happening. Probably, a lot of trainings and some tough moments that took place early in my life, when I had some obstacles to overcome. Something that shows my path until the climax, that is probably the Messi's penalty.
Which song would you choose as a soundtrack?
I think I would choose my favourite music from the period when I was young. It was an electronic music, my favourite band at that time was The Chemical Brothers. I think I'd go in that direction, I would find some classic upbeat, electronic song. The Chemical Brothers, maybe Daft Punk. That would be really nice.
Being raised in Breidhold what was your biggest passion except for football? How did you spend your free time as a child?
Obviously, film making was one of my hobbies. After I made my first short film when I was 12, it has always been something I have been into these days. I was just like a average teenager, hanging out with my friends, going out, meeting up with girls from the neighbourhood. We liked to go snowboarding, skateboarding.
Snowboarding almost finished your football career before it had even begun.
That's right. It was a dramatic event when I was fourteen, that made me unable to play football for five years. But, actually, I am really happy that this happened. That made me very proud of my development, I couldn't have hoped for anything better. And I think that if this wouldn't have happened, something else could have, and everything wouldn't go the same path. I can name it the luckiest moment of my life, in a way.
What exactly happened?
My dad is also a competitor, just like me. He was on ski, I was on snowboard. We were going up on a lift and we decided to have a race down. And we went some path we were not supposed to go, a bit outside of normal path and we just went straight down, which was not very smart. All of a sudden, the mountain just disappeared, we went off a cliff or something. We both fell, my shoulder dislocated and he destroyed his thumb. So he had to go down to ask the medical staff to come and get me, because I couldn't move.
What made you come back to football when you were 19? You lost all the formative years.
Yes, I completely lost them. Since i dislocated my shoulder, I have always tried to come back. After the incident, I came back few months later. I trained for two months and then I dislocated my shoulder again. another year goes by and I tried and dislocated my shoulder again. And it was like that for four years. So I was really tired of all the failures when eventually I turned nineteen and finally had a shoulder operation. I was twenty years old when I got my shoulder completely fixed. I was finally able to really give it a go. My team, Leiknir, was playing in third division, so i didn't expect that I had any kind of a bright future in football. The thing that made me give it one last try, was that I always felt I had something. You know, something a bit extra, some talent. I just felt like I would be wasting it. This was not the right time to give up. My goal was to get to Icelandic top division in three years or I would focus just on being a film director.
That was a long way ahead.
At that time I was on the bench in third division's Leiknir, but I managed to climb this ladder in two and a half year. I played my first game in Icelandic top division being 23-year-old. It took me few years to develop my skills, to become a mature goalkeeper, because I have lost five years earlier. At 28-29 I started to become good, mature. That is when everything started.
You have never played for youth national team, the first call you got was for the senior one, am I right?
Yes. It was when I was twenty-eight. When i was starting to make a name for myself, I was already 24-25, I had some opportunities to go abroad on trials. Back then all the scouts and goalkeeper coaches, everybody asked  the same questions. "Why is he 25 years old and he played almost no games". This is a long story, you know it now, but people didn't have time for that. They just saw some guy playing for Iceland. OK, he has something, but he has no experience, he is too old and this is just weird.
In your formative years there was no infrastructure, no all-seasons pitches. So how did the training look like then?
When i grew up, I think that there were 50% of gravel and 50% of grass pitches in Iceland. The first artificial pitch was made when I was maybe 8-9 years old. I think it was in 1991 or '92. Around 2002 or 2003 they built first football house, it was when I turned 19. So I got both treatments. When i was 17-18, I was running in the snow to some horse training facility, which was the only indoor facility that we had at that time. This was like a stable. You know, horse stable.
The smell there must have been awful.
Yes, it was not good. And there was also gravel, but  it was the only way to train inside. The smell was not nice, actually nothing was nice about it. And we had to run to the stable. This was the worst training of whole week, when we ran to the stable, made the training and then ran back. So this is really different than facilities there are today. But then the football houses started to appear, so when I started playing adult football in top division, I usually had the access there. So I know how big the difference is.
Before you got to the top division you got rejected by the third league club Numi. Was the coach drunk or what?
I think he could be drunk, because he liked to drink! I mean… I also think I was not that good. I was probably a bit overweight and at this time I was very raw technically, unfinished. OK, but of course, they should have signed me anyway, I was not that bad. But they didn't, so I decided to finish 2004 season on the bench in Leiknir and after that I wanted to quit football.
That season, 2004, ended with the game.
You heard about it?
Yes, I saw the footage of the second goal. Sorry, but I haven't seen worse taken goal kick in my entire life.
My weakness has always been my kicks. I managed to make them decent, now they are good enough, so at least people don't know that this is a problem. I played in Denmark, in Holland, in technical leagues, and no one there knew that this was a problem. But at that time it was a huge problem and no clip describes it better than that one you mentioned before. I completely fucked up this game, it was the last game of the season and we didn't go up because of that.
Do you remember what you felt just after the game?
It was very difficult, because at this time it was by far the biggest game I have ever played. I was raised in a lower division club, my stars were guys playing in second division, so this was the big stage for me. There was record-breaking audience of about thousand people, while usually there were about fifty. Everyone came, the whole neighbourhood was having a big party before the game with the orchestra walking through the streets. There was the TV. I got to play only this one game and I really hoped this would be good and kind of make up for all the season of sitting on the bench, being frustrated. If I played in this game and we would win, it would be all  forgotten.
And it went exactly the opposite way.
It blew up in my face in the worst possible way. I felt that i had failed everybody. I came home really depressed, locked myself in the house when the other guys went to drink away their sorrow. I stayed at home, I didn't speak to anybody. It just felt like football was not for me. I had given it enough tries. So i called the coach and told him I quit. He said "think about it", but i said: "no, I'm making films now, blah blah blah". But at the beginning of the new year, 2005, when preseason started again, I still felt I have this craving I had. Like a fire burning inside me to prove myself. I wanted to show that I am a good goalkeeper. I decided to show my best side at training, I felt I still got it, but I needed to take some steps. I had to move away from this club, because they had number one goalkeeper who kept playing and I had to find another one. So I started calling around coaches, the same as I did with this Numi team, I started coming to trials. One club wanted me, I said OK, I played there in second division. Then, the next year, I made a switch to first division club, I called the coaches, I told them who I was and asked if I could come on trial. One club decided to sign me and that was the first time I got paid a little bit for playing football. In 2006, when I was 21. And then, the next year, I finally didn't have to call anybody, because I had a good season at first division and some top division clubs noticed me.
Ronni Hellström, former Swedish goalkeeper made that kind of terrible mistake in World Cup game against Italy. He said after that game: "When I made this mistake, the worse one you can imagine, in such an important game, I knew that there is nothing worse that could happen to me". He made it a valuable experience, something positive. Did you try to do something similar?
I never thought about it in that way, but I always felt that this mistake made me who I am now and  somehow defined my entire career. I knew that I hit a rock bottom, I knew that there was not much below and it made me work on those kicks. I spent a lot of time practicing long balls, trying to hit the crossbar from the half-way line. And at least I made them decent. Maybe not very good, but decent.
At which point you felt that you became a full-time footballer?
When i was 29 years old and I made my move from Iceland to Norway. For the first time I played for a professional club. Even though this was the smallest possible club there was in Norwegian top division, because it was a club a bit like Leiknir, that worked their way up through lower divisions and ended up in the top division. So they didn't have the same facilities as the other clubs did, but still it was a professional club. So they trained at 10 o'clock in the morning and I did nothing else but training. For me this was a huge, huge victory. Even though you might say that calling a transfer to Sandnes Ulf, while you are 29 years old, is a success only for people, who have done something horribly wrong with their career. For me to play there was a big victory. Some foreign club taking me as no. 1 goalkeeper? It was massive. I loved it, i loved every minute of that.
This is also when you stopped being a director?
Yes, that's about the same time. When I moved to Norway, I put filmmaking on side, because it was not possible for me to do it regularly like I did in Iceland. I decided to fully focus on football, I was very happy being able to do so. I was exhausted of doing both things for ten years. Football is a lot of pressure, it's demanding for your mentality and filmmaking is almost the same. You have these deadlines, responsibility, you are getting project that costs a lot of money and you have to deliver. It's all up to you as a director to answer all the questions and get everything on time. All my thoughts all day were about the filmmaking, except when I was on football pitch. Then I could clear my mind for two hours but after that I was back thinking about filmmaking. For me it was a great relief, it was getting a bit too much.
Suddenly you had so much free time.
Exactly. I felt like: "this is like a vacation" when it's one training a day and there is no other job. But then you get used to it and start getting lazy. Now I am lazy as any other footballer. Now I feel like it's much to train two times a day. But in Iceland you train in the morning, then you work for whole day and then you train in the afternoon, maybe some extra training after that. So I don't think that there is anything to complain about when you are a professional footballer. It's a big privilege. For ten years I was playing and working, dividing my time. I was so tired, so maybe I can understand a bit better than most footballers how privileged this job is. Almost every footballer is taken into academy, he knows nothing else than people washing his clothes, somebody filling up water bottles, somebody ordering the trips and telling to get into the bus to the airport, then to the hotel where you get free food, your room key, everything is being fixed for you. The footbalers are living very protected and easy life. So when the problems hit them, they are not ready. I am not saying I am better than them, but I am sure I have a different background than almost every footballer in the world. And so I think that helps me.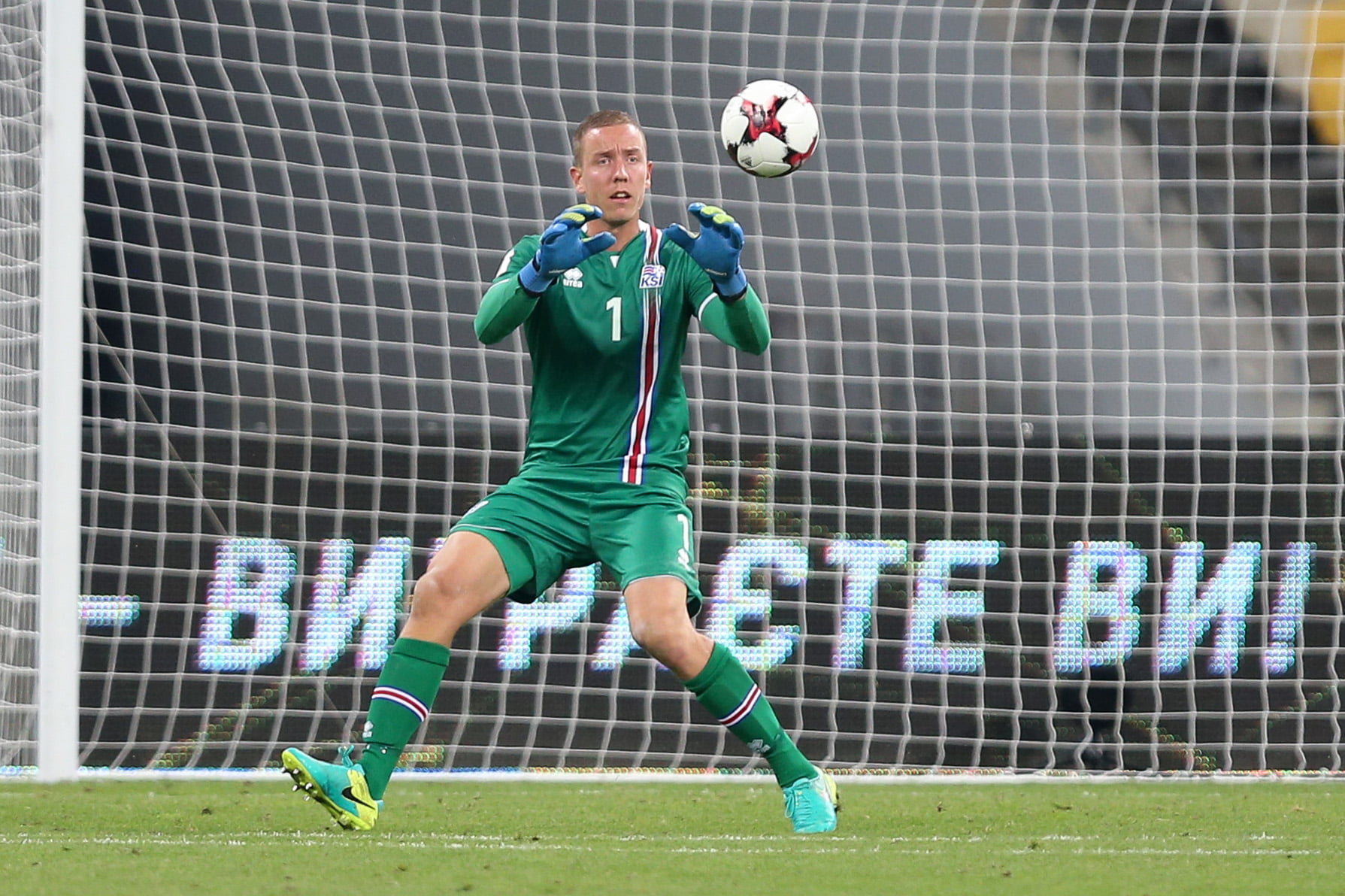 When Lars Lagerback came into the national team, was he surprised that you are not even pro at that time?
We have never talked about it, but he is a very down to earth, understanding guy. And I am sure he knew that it is a part of taking-over Iceland. He knew that there were some very good players but he also knew that we don't have the same class of players as Sweden or Poland or other countries. He had to accept all those things, one of them was having a film director in the goal. But fortunately I managed to rise to the team's level of performance
What was so special about Lagerback? How could he do such unimaginable things with Iceland? before he came you had some really bad results, your debut was 1:0 win against Cyprus, one of just a few in last several years. 
Lagerback came in at the perfect time for Icelandic football, because there came the golden generation of footballers, best we've ever had. Guys born in '88, '89 and '90, Sigurdsson, Gunnarsson, Bjarnason, Finnbogasson… This group of players came up, they had actually done something no Icelandic team had done before – they qualified for the Euro U-21. But these guys were also getting a bit too big, too cocky. They have this mix of arrogance and their hard-working Icelandic mentality. And this could have been dangerous if they had a coach they didn't repsect. With Icelandic league coach, the risk was they will outgrow him and he would have no control of them.
But the federation ultimately picked Lagerback.
Yes, so there comes Lars Lagerback when these guys were coming to the national team. He had previously for example kicked Zlatan home from the camp. So you don't fuck with this guy. You knew, even he seemed very friendly, he had this presence, that's a bit hard to describe. Friendly, easy to talk to, but you just feel that he is a serious guy and you don't fuck with him. So was respected, not doing anything special, just being who he was. And I think it is one of the biggest things in footbal. To have the respect of the team. It is much more important than what tactics you play etc. That's when the team wants to deliver for you. Lars came up with very simple system, simple guidelines  everyone listened to what he said, everyone was ready to do the things he was saying. I think that team needed someone like Lagerback as well as Lagerback needed a team like that.
He was the one who took you to the European championship finals. Did you have this special moment in this tournament when you felt you were 100% ready for the challenge?
I think my best save in the competition was in this game after 15-20 minutes. It was almost the first time I touched the ball and it was one of the best saves I have ever made. So yes, it was definitely the moment when I shifted up. But you know what? It was not like the stake was something completely new for us. We were always playing Iceland's biggest game in history since we had the opportunity of playing at the World Cup playoffs in 2013. When there were five games left, all the newspapers started the narration that "the next game is the most important game in icelandic football history". Then we won and the next game was the most important in Iceland football history. And so it went, every game you played wass more important than the last one. Then we went to Euro qualifications and after 3-4 games, when we were first in the group, you can imagine. "The next game – the most important in Iceland history".
But still the game against Portugal must have been something completely different.
It comes to a new level when you play first game in Euro. You feel that the other games were almost like Icelandic second division and this is ten times bigger than the last game. It was new pressure, new excitement. I really felt that making this kind of a big save at the start of the game helped me in the next minutes against Portugal. For the team it was so important to get this draw, it shook of the state of frightening of playing first game of the tournament. Even though we felt we had a strong team, there wass always a possibility, having played against the team like Portugal, that they might have crushed you. This is what you are afraid of, you don't want to be humiliated, it hurts so much.
Before the England game, did the fear of humiliation return? Austria, Hungary – it's not that level. And you lost a goal really quickly.
We never thought we would get humiliated against England. We believed that we would beat them. Of course, there is always this possibility that everything will go wrong and you lose by 3 goals, but we believed from the first minute that we could beat England. But we were also a bit lucky because we equalized one minute after they scored. They thought the only possibility for us to get a good result was to keep them away from scoring for a long time. So when they scored after just three minutes, they felt a relief. This was it. When we equalized one minute later, it upset them so much that they didn't recover until the final whistle.
So what happened in the next game. Why did it go so horribly wrong that you lost 5:2?
In a way we had overachieved. I mean, our goal was to go through the group stage and it was already a huge victory. And we managed to do that in the craziest possible way, scoring in the last second of the last game. This was probably the highlight of my football career – when we scored this last goal… I have never experienced happiness like this before. And to top that by also beating England – we felt that we had achieved enough. Even though we wanted more, deep down we all felt satisfied. And you cannot have this feeling when you play against France at their home. So this was one thing. Number two – we were very tired, we had played the same starting lineup the whole tournament, every game the same team started. France also outsmarted us.
What do you mean?
They let us have the ball, attacked us with counters, something nobody else had done before. And then everything went the best way for them – they scored four goals in one half, probably by the same amount of shots that Portugal had, Austria had. Even holland had when we kept clean sheet against them. When we play against all these big nations, they are always going to have five, ten, fifteen shots in one half. And usually we manage to throw ourselves in front of them, I saved a couple of balls, some of them went over the bar. But this was one of these days when everything goes the right way for one of the teams. One shot goes through my legs. We rarely concede a goal from corners but they have scored one. And third goal? It was the most typical situation when we are able to defend ourselves. Edge of penalty box, shot goes through the legs of I think two or three guys to the far corner. So you see, this is the difference between humiliation and achieving something fantastic. We played against Ronaldo and managed to get a draw and France humiliated us 4:0 at half time. This was no big difference between these two games but in one game everything goes in and one game we have the edge, some luck and we get a fantastic result.
After Euro 2016 you stopped being total underdogs. You went to the world cup to win some games and you returned with just one point yet.
In football the difference between success and failure is really thin. It's not like in handball, where you definitely win when you are better team. Or basketball. At the Euro we had the luck on our side, we played good game against Portugal, we played bad against Hungary, but we managed to score a goal and they couldn't take advantage of the way we played. And against Nigeria we didn't score this goal even though we totally dominated the game in the first half, they weren't even in our box, they had nothing, no shots. But then they killed us in the second half. That was the only bad half we played in the tournament. They scored two goals, we missed a penalty, things didn't go our way. Then, against Croatia, we played maybe our best game ever in a big tournament. We got more chances than ever before, I had nothing to do in the first half. And then they scored a goal, but we kept on going.  And the things started falling into place, Argentina scored the goal we had needed –  we equalized.
All of a sudden you were one goal away from qualifying with five minutes to go.
And then, we came open, made one mistake, they scored. We were one goal away from our dream. One tap in, one lucky move from "everything is fantastic again!". But I don't think in any way that our performance in the World Cup was bad or a failure. Number one target was just reaching the tournament. We won the qualifying group with Croatia, Ukraine and Turkey. I don't think our game in the tournament was in any way something to be ashamed of.
Especially because you got very good reason to be proud of in the first game. Man of the match, saved Messi's penalty.
I mentioned before the Austria moment when we qualified to the last 16, which was the highlight of my career, but that Messi penalty was like total utopia. When you are playing for your country the first game ever in the World Cup history, against one of the best teams, against the best player in the World, you have some ridiculous dreams in your head. But you know they are not going to happen. Usually you save a penalty maybe in every fifteen games, you become man of the match in every twentieth match. To do it in this game, where all eyes are on us… It can't get any better than that.
How did you get into Messi's head?
I don't know what was he thinking but I did my homework well and I looked at a lot of penalties he had taken and I also looked at what I had been doing in the last penalties. I tried to imagine, if they studied my saves attempts, what would they think I was going to do. I had gone the other way I think three times in a row before the tournament. And then I just did something that i had done in the last penalty I had saved. I tried to disturb the shooter a bit. So yes, if you asked me about that, I would say I felt pretty confident that he goes for this corner and I can save it.
What was the feeling just after you did it?
When the ball was cleared, I think I asked myself out loud: "did this really happene?!". It took some time to come down to earth. Like I said, the feeling after a football game when you win and you play well – nothing competes with it. You feel complete ecstasy. But this feeling was new, I had never felt like this before. It was some kind of a weird state in the next few days. And the phone was almost melting from all the messages, the notifications. Then I started to realize I was now known all over the world. That my life had changed.
As a director, what ending would you like to see there? Do you have any dreams that still aren't fulfilled?
Yes, playing in the Champions League. That's why I'm here, this is my best possibility of reaching the group stage. Actually if that happens and if there was the movie you are talking about, the scriptwriters would have to bend the timeline a little bit, because the Messi penalty would always have to be the climax. But I can quit today and be fully satisfied with what I have done. I achieved much more than I had ever dreamt of. Everything that happened after I became pro is just a bonus.
Author: SZYMON PODSTUFKA
fot. NewsPix.pl/FotoPyK